So far 25 people have died in the accident at the crematorium in Muradnagar, Latest News On Ghaziabad.
An FIR has been lodged against many people, including the contractor, the municipal executive officer, on charges of negligence and corruption. So far 25 people have died in the accident at the crematorium in Muradnagar, Ghaziabad, adjacent to Delhi. Taking cognizance of the incident, Chief Minister Yogi Adityanath directed to provide immediate relief and action. Latest News On Ghaziabad an FIR has been lodged against many people including the contractor, municipal executive officer. The EO, engineer, and supervisor have been arrested in this case, while the contractor is absconding.
Niharika Singh – EO, Muradnagar Municipality
Chandrapal – Junior Engineer
Ashish- Supervisor
These are the people whose negligence overshadowed more than two dozen lives in Muradnagar in Ghaziabad. The Ghaziabad police has registered an FIR against some of these people, including these four. Now wait for action. At the same time, Chief Minister Yogi Adityanath has asked the Ghaziabad administration for a full report of this accident.
PM Modi expressed grief
Latest News On Ghaziabad the accident was so terrible that even Prime Minister Narendra Modi got himself distracted by it. He tweeted and said, 'The news of the unfortunate accident in Muradnagar has brought great sorrow. The state government is busy in relief and rescue work. I express my condolences to the families of those who lost their lives in this accident and also wish the injured well soon.
Roof collapsed during funeral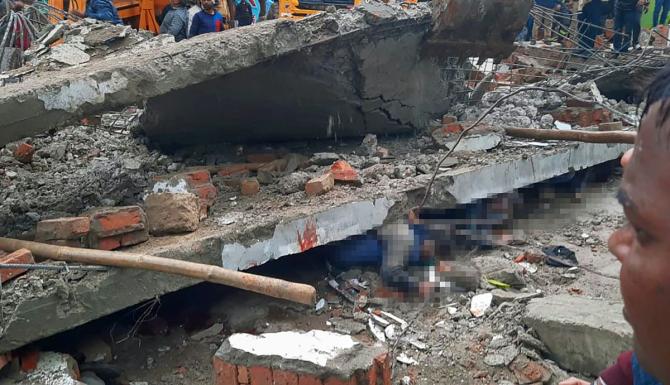 Reaching the crematorium for the funeral of his family, family and relatives may not have even dreamed that the shed they are stepping towards to avoid the rain will go to their living wake. According to eyewitnesses, his grandfather's funeral was going on and the others were standing far away. During this time a loud voice came and when he ran to that side, he saw many people buried under the roof.
25 people died so far – Latest news on Ghaziabad
Eyewitnesses said that his uncle also died in the accident while the elder uncle's boy is still buried under the rubble. Devendra told that his father has suffered a shoulder injury but he narrowly survived the accident. So far 25 people have died in this accident. UP government has announced a financial assistance of Rs 2 lakh to the families of the deceased.
Scam killed people?
Since the incident, the question arises whether the scam in the crematorium took the lives of the people? Latest News On Ghaziabad according to the local people, the roof of the crematorium ghat was laid three months ago, in which raw sand was used. People said that there was a scam in the roof of the cremation ground, the result of which was that it collapsed in a little rain. Well, the report of the whole case has been summoned, now it is to be seen what action the government takes.